Subscribe!
Sign up to receive exclusive deals,
updates + 10% off your next order.
This option is currently out of stock.
Made in Portugal + inspired by mid 20th Century Scandinavian flatware, the shapes of the Oslo collection are minimal + clean. They are made of stainless steel 18/10 with black titanium electroplate. Perfect for entertaining or everyday, this stunning matte black finish adds the perfect touch of drama + unexpected elegance to the table. Please choose set:
The Cutlery Set is sold in a set of 1 place setting. Each place setting includes 5 utensils: 1 salad fork, 1 dinner fork, 1 dinner knife, 1 tablespoon + 1 teaspoon.
The Serving Spoons are sold individually.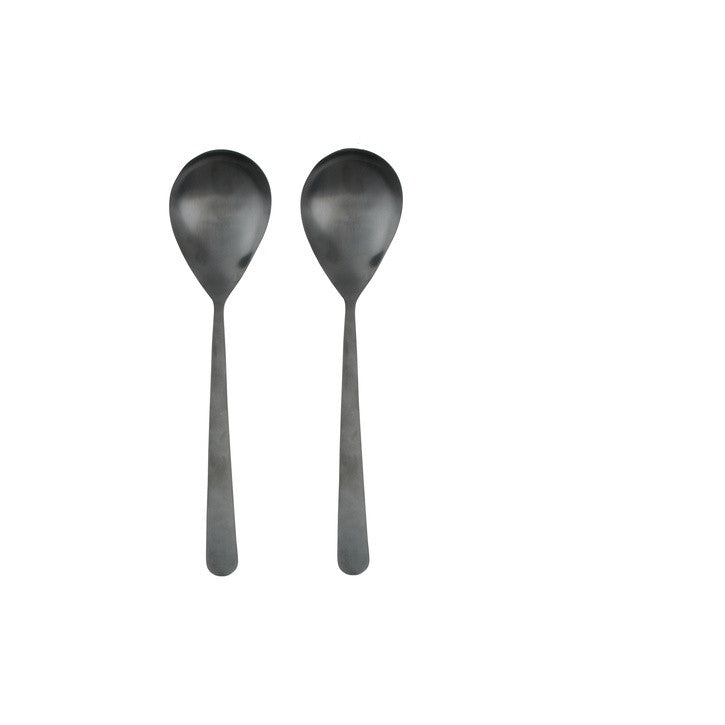 Cutlery Set
Salad Fork: 7.25" L
Dinner Fork: 8.25" L
Dinner Knife: 9" L
Tablespoon: 8.25" L
Teaspoon: 5.75" L

Serving Spoons
10" L
Table setting made in Portugal.
Stainless steel 18/10 with black titanium electroplate.
Hand washing is recommended. Although the materials are dishwasher safe, we advise hand washing with gentle dish soap + a non-abrasive sponge to protect the black finish. After washing, dry immediately with a soft cloth.
Canvas Home
Simple sustainable style

The home is a blank canvas. Let us help you paint a unique picture, reflective of the life you lead.
Canvas Home is a collection of modern, sustainable home goods inspired by the beauty of hand crafted objects. Our motto "simple, sustainable, style" perfectly summarizes our design philosophy + world goals.