In The Kitchen | Cinnamon Rolls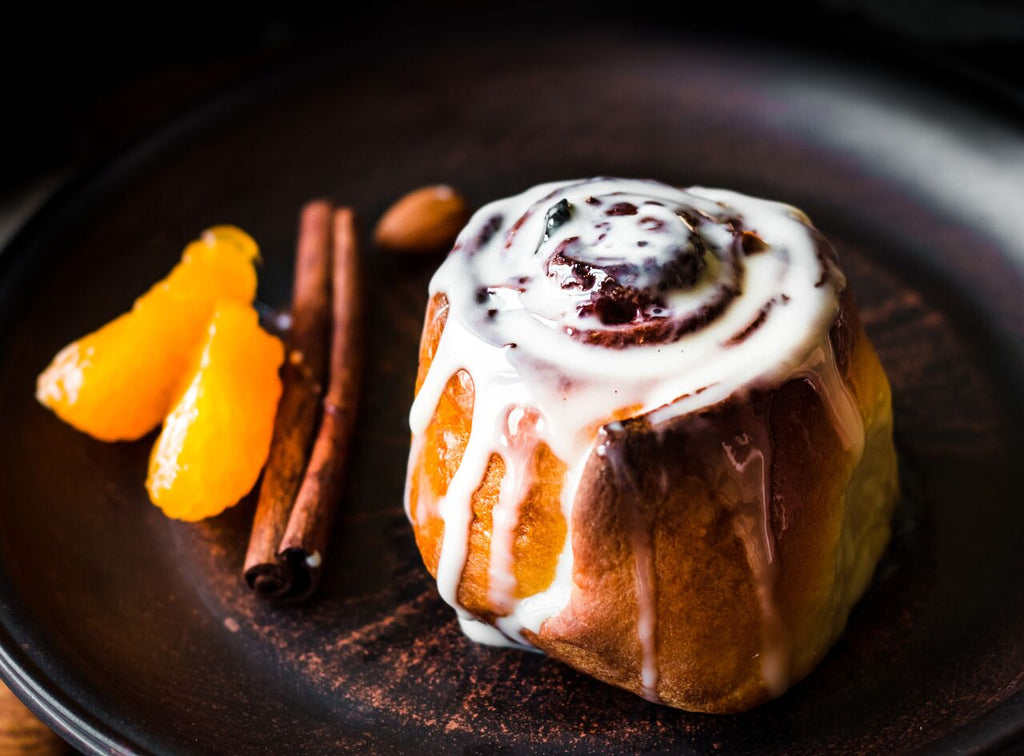 I'd like to meet the person who invented the cinnamon roll. I'd like to shake the hand of the person who tricked Northern Europe and most of North America into believing that the fluffy ball of rich, nutty, sweet dough with icing on top is an actual breakfast item. I'd like to ask how it was decided that, while cake is reserved for dessert, cookies for snacks, most sugary treats shunned before 8pm, the cinnamon roll is acceptable for breakfast. Yes, I'd like to meet this person. I'd like to meet them and I'd like to hug them.
Sweden – the presumed origin of the cinnamon roll – actually has a "Cinnamon Roll Day." It's October 4th, FYI, and yes I already have a countdown going. That's how important these buttery buns are there. I'll be clear. Cinnamon rolls are a relatively new affection for me. I did not grow up with cinnamon rolls. We had nothing against them, they just weren't a staple in our kitchen. We boasted some of the best blueberry pie and coffee brownies umm, ever. But no cinnamon rolls. As comfortable as I am rolling pasta dough, I'm still new to pastry dough. Getting there though. And these cinnamon rolls are helping.
This recipe is inspired by my mother-in-law, Franny's recipe that SHE adapted from her old school cook, Minnie's recipe. (And to back Minnie up here, she was, in Franny's words, an old timer, a REAL cook who made real homemade food everyday, no Aramark BS.) These puppies were what piqued my interest into the cinnamon roll world, for every Christmas, there they would be - what could be debated as the best smell in the world wafting through her home and into my life.
For the filling, I use ILA ceylon cinnamon, which is sweet and complex with a floral, orange essence that complements the orange zest beautifully. The glaze, which is far lighter (especially with more water) than a thick frosting, gets its depth from the ILA vanilla extract - sweet, woody and richly fragrant. (Personally, the glaze is not 100% necessary - these buns stand strong solo, but it is a decadent finisher.) These can be made the night before and then baked off in the morning after being brought COMPLETELY to room temperature. What more perfect for Valentine's Day - or really any old Sunday - breakfast than fresh, gooey cinnamon rolls? The heavy lifting was already done the night before, all you need to do is pop them in the oven, drizzle (yaaas) with glaze and indulge.
Cinnamon Roll Dough

1/3 cup butter, melted, then cooled
1/3 cup white sugar
1 egg
3 1/2 - 4 cups flour, plus more for dusting
1 teaspoon salt
1 teaspoon ground cinnamon
Zest from 1 orange
1/4 ounce package rapid rise yeast
1/2 cup cream or milk, brought to ALMOST a boil, then cooled
1/2 cup warm water
Filling

1/2 cup butter, room temp, plus about 2 tablespoons for baking dish
3/4 cup brown sugar
1/4 cup white sugar, plus about 2 tablespoons for baking dish
2 tablespoons ground cinnamon
Pinch of salt
1/2 cup nuts or raisins, optional
Make the dough:
1. Preheat oven to 350° F.
2. Stir the yeast in warm water and set aside.
3. In a large bowl, mix 2 cups flour, sugar, cinnamon, orange zest and salt. In a separate bowl, mix the cream, butter and egg. Be sure the milk and butter are cooled enough so they don't curdle the egg. Add the yeast mixture. Add the flour mixture to the milk mixture gradually and mix until smooth. Gradually add remaining flour until dough is soft and easy to knead.
4. Dust a board with flour and knead the dough until smooth and elastic, about 8 minutes. Place dough in greased bowl and turn to grease the top. Cover and let rise until doubled in size, about 1 ½ hours.
5. Once doubled, punch down dough and turn out onto a lightly floured surface. Roll into a rectangle, approx. 15-18" long.
Make the filling:
6. Mix the sugars, cinnamon and salt.
7. Spread butter all over dough, then the cinnamon-sugar mix, then the nuts or raisins, if using.
8. Roll the dough up by the long edge and seal the seams. Cut into approx. 1-inch slices.
9. Butter and sugar the bottom of a baking dish.
10. Place cinnamon roll slices, cut side down and close, in the dish and let rise about an hour. (They will double!)
11. Bake for about 25 minutes or until lightly golden. Cool slightly and turn onto a plate.

If you're prepping these in advance and holding them in the fridge, be sure to cover them with a cloth and bring them COMPLETELY to room temperature before baking. Dough should be soft and fluffy before the oven.
Glaze

3 tablespoons butter, room temp
1 cup powdered sugar
1 teaspoon vanilla extract
Hot water
1. Mix butter, powdered sugar and vanilla. Add hot water by the tablespoon until the glaze is as thin or thick as you like.
2. Drizzle over rolls.
Save
Save
Save
Save
Save
Save
Save
Save
Save
Save
Save
Save
Save
Save
Save
Save
Save
Save
Save
Save
Save
Save
Save
Save
Save
Save
Save
Save
Save
Save
Save
Save
Save
Save
Save
Save
Save
Save
Save
Save
Save
Save
Save
Save
Save
Save
Save
Save
Save
Save
Save
Save
Save
Save
Save
Save
Save
Save
Save
Save
Save
Save
Save
Save
Save
Save
Save