Subscribe!
Sign up to receive exclusive deals,
updates + 10% off your next order.
This product is currently out of stock.
These ceramic tapered mugs have been hand thrown to form a gorgeous, unique shape. Each has its own completely unique glaze markings + no 2 pieces are the same. Colors are indigo blue + white. Sold individually.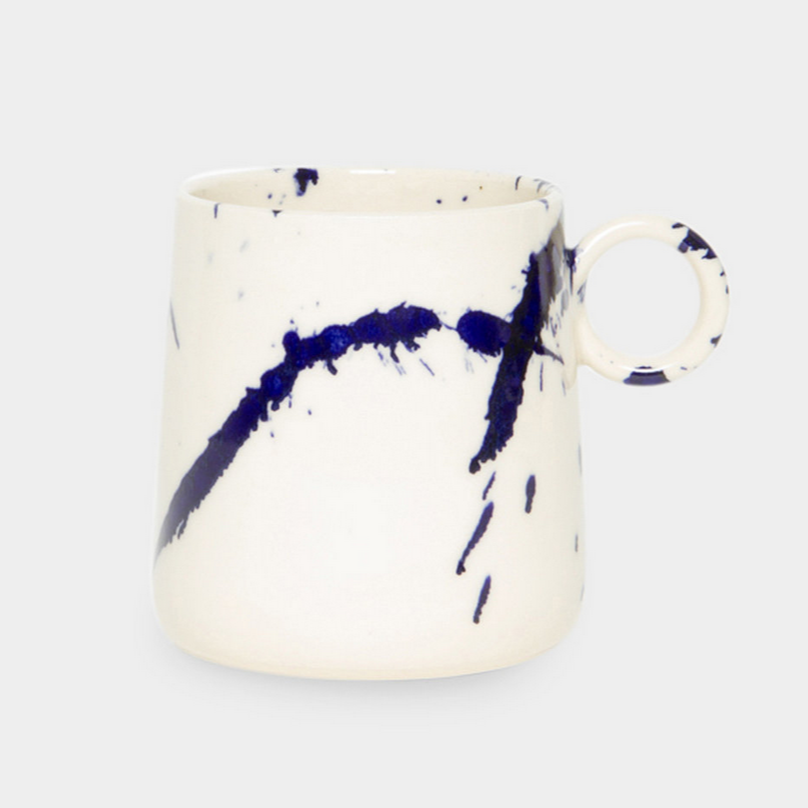 Due to handmade nature, shape + size may vary slightly.
3" x 4" x 3"

EARL
Family owned + operated furniture + housewares; Los Angeles, CA

EARL create original pieces that seamlessly enhance any environment + are built to stand the test of time + heritage. Each one of their creations, from inception to final form, are made in Los Angeles, CA.

Designer + maker, Chris Earl, grew up in Papua New Guinea - a place where one relies heavily on what they can make or maintain. Throughout his formative years, artistic expression + working with his hands were a primary focus for Chris. At the age of 25, he found his preferred niche of furniture making. By 2005, Chris had begun in earnest to pursue the craft + began designing + building original commissioned pieces. Over the years, while his commissioned work grew, Chris supplemented his craft by working as a chef. In 2012, he and Amber were married + Chris placed his full-time effort into creating the company now known as EARL.

Amber was born + raised in Southern California. Upon graduating from college, she began working as a sales representative in the fashion industry. For a decade, Amber proved herself an invaluable asset to a few select companies. In each position, her skill + business aptitude grew quickly as she rose from an entry-level sales associate up to the position of national director. In 2016, Amber left the industry + dedicated her whole set of skills to be the driving force behind the family business.

Today, EARL is the product of a natural partnership. Chris heads up all the design + build work, while Amber runs every aspect of the daily business. Together, they work towards creating beautiful objects for the world while sharing the joy + challenge of raising three little ones.

"As a business, + as a family, we strive to be a source of creative beauty in the world. We gladly stand behind what we create + find real joy in getting to express ourselves in this way. We are so honored that all of you continue to support us in doing so. Cheers to many years ahead, to all the inspiration that is yet to come, + to the fullness of life that is yet to be shared among us all."
- The Earls