Subscribe!
Sign up to receive exclusive deals,
updates + 10% off your next order.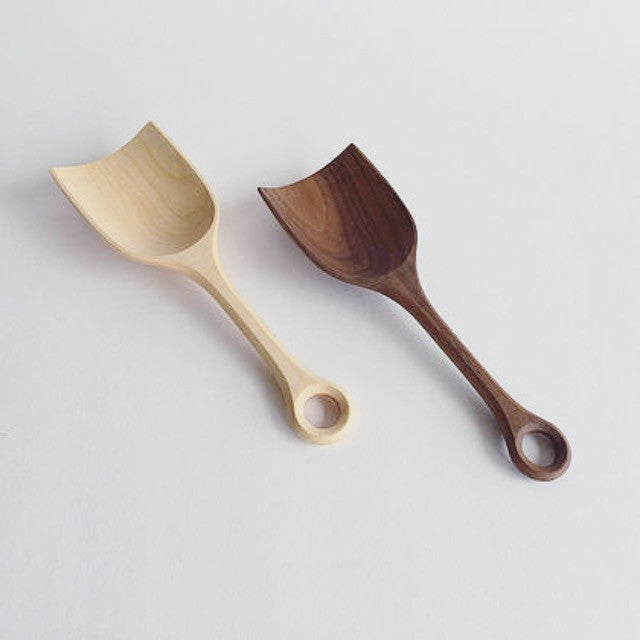 This option is currently out of stock.
This grain scoop is hand-carved, strong + lightweight. The ring makes it easy to hang by your kitchen workspace. It's perfect for scooping bulk grains, flour, sugar, nuts, or any dry foods from large bins + jars. Sold individually. Wood options available.
Length: 8"
Depth: 1"
Mouth width: 2"
Hand-carved black walnut or hard maple.
Wash by hand, do not let wood stand in water.
All Park Woodshop spoons + spatulas are crafted, sanded + oiled by Park, by hand. Each utensil undergoes 4 to 5 painstaking cycles of being soaked in water, dried in sunlight + hand-sanded back to smooth before final oiling. This means that your Park Woodshop spoon or utensil will not become rough + grainy after many uses, unlike store-bought wooden spoons which become uncomfortable + provide porous surfaces for bacteria to grow.
Park Woodshop
Thoughtfully handmade in Alexandria, Virginia

Park Swan started Park Woodshop after completing a BFA in Sculpture. He is responsible for designing + making each product from start to finish. Leslie McConnaughey is responsible for Park Woodshop product visualization + works in the woodshop as Park's apprentice. She brings a unique + refined aesthetic sense to Park Woodshop.

We should not be burdened by the things we own. They should be beautiful, work well + last.